Philippine
Nudibranch
Madness

This selection of nudibranch images in the First Issue of the Nexus America Photo Gallery was taken with a Nexus F4 Pro Housing with a Nikon F4 camera with MB-20 Battery Pack, DA-20 Action Finder, and MF-23 Data Back using AF 105mm Micro Nkkor, and AF 70~180mm Micro Zoom Nikkor lenses.

The photos were taken in the Philippines at Anilao, Batangas Province, Luzon Island between April 30 and May 14, 2000. Anilao is often called the "Nudibranch Capital of the World". These images represent only a small percentage of the many species of nudibranchs observed on this trip.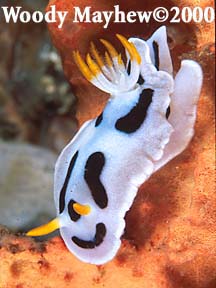 Nudibranch, Chromodoris sp.
Anilao, Philippines
Nexus F4 with 105mm lens